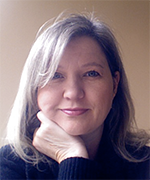 Candy S. MacNeil, M.Sc.
Individual and Family Therapist
Specializing in Eating Disorders and Marriage & Family Therapy
519-760-3031
For e-mail, use Contact form.
147 Wyndham Street North, Suite 403, Guelph, ON N1H 4E9 [map]
Degrees
Bachelor of Arts, Psychology, Temple University, Philadelphia, PA USA
Master of Science, Counseling Psychology, Marriage and Family Therapy,
Chestnut Hill College, Philadelphia, PA USA
Professional Memberships
Member: Ontario Association of of Consultants, Counselors, Psychometrists and Psychotherapists
Experience
Fifteen years treating patients (female and male, adult and adolescent) with eating disorders and other mental illnesses on both an inpatient and outpatient basis, in Canada and the United States.
If you're interested, you can learn more about my practice and approach to treatment here.