Elisabeth Schramm, MSW, RSW
Social Worker
Guelph, ON
(519) 994-7780
elisaschramm@gmail.com
Elisabeth has worked as a social worker for 30 years in both community-based and in-patient mental health programs. She has worked with various client populations, including adolescents, adults, as well as seniors and their families. Elisabeth has provided assistance to individuals dealing with stress, life transitions, depression, anxiety, self esteem, communication, conflict resolution and past trauma. Over the past 5 years, Elisabeth has developed an interest in integrating Mindfulness Meditation with other aspects of therapy, having observed the benefits of bringing mindful awareness and acceptance to our present experiences. Elisabeth is also teaching yoga and meditation. Elisabeth has been described by her clients' as compassionate, understanding, and caring. To learn more, visit Elisabeth's website.
---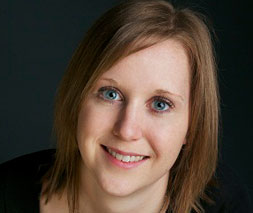 Lindzie O'Reilly, MAN, RD
147 Wyndham St. N, Suite 403
Guelph, ON
lindzie.oreilly.nutrition@gmail.com
As a Registered Dietitian specializing in eating disorders, my goals are to help you
Increase awareness of hunger and fullness cues so that you can choose a food routine that is right for you
Normalize eating patterns and increase flexibility with food choices so that you can rediscover the joy of food
Ensure nutrient and energy needs are met so that you can feel your best
---
Janet Griffin
Registered Psychotherapist, Recreation Therapist, R/TRO
It is sometimes hard for people to admit, or even recognize, that they have been impacted by trauma. While it's true that not everyone who lives through a traumatic event will develop post-traumatic stress disorder, many do find that their lives have been significantly impacted, and often for the worse. I offer services to those with a formal diagnosis of post-traumatic stress disorder as well as to folks who do not have all the symptoms, but whose lives are being negatively affected anyway. Perhaps you have trouble trusting people, or you've become very cynical and see the negative in every situation instead of the positive, or you've made yourself extremely busy in order to avoid thinking about what you've been through. All these may be the less healthy ways you're trying to cope with trauma.
For the last seventeen years, I have specialized in treating survivors of psychological trauma and people suffering from post-traumatic stress disorder (PTSD), helping them to find healthy coping strategies, build a sense of safety, and develop resilience. Over the years I've helped many people who may have experienced:
physical, sexual, emotional abuse and/or neglect in their childhood, or later in life;
work place accidents;
police & military traumas;
critical incidents as a first responder.
If you've lived through a trauma, or repeated exposure to critical incidents in the work place, you may be feeling alienated, agitated, or disconnected from your own feelings and from other people. You may find the events of daily life overwhelming. You might find yourself isolating and avoiding people, places and previous interests. And, you certainly wouldn't be the only one to feel differently about yourself, your relationships and your life. Therapy can help with all of this and more.
And it's not just trauma survivors who can use the help. Through the years I've realized that many of the issues I help with are the same ones experienced by people who don't have a history of trauma. People who have dealt with depression, eating disorders, anxiety, or low self-esteem, can experience some of the same isolation, negativity and feelings of meaninglessness in their lives. In fact, even those who have no mental health diagnosis can find it increasingly difficult to:
find a healthy work-life balance;
feel good enough and accept imperfections in themselves;
tap into resiliency in the face of normal life stressors;
identify, tolerate and express a wide range of emotions;
engage in regular activity for health and wellness;
nurture themselves as well as they nurture others.
Whether you've endured trauma in your life, or some other mental health issues, or you realize your life just feels emptier and lonelier than you want it to be, recreation therapy can be an extremely powerful way to heal.
Through self-reflective practice – which is a fancy name for really thinking about what you do and why you do it – I may be able to help you recognize patterns or issues that keep you from living a balanced, healthy, connected life. Sometimes we'll do this through talk therapy, but at other times we may engage in activities right in the therapy room. These may help you identify the habitual and problematic attitudes, beliefs and behaviours that get in the way of meaningful, enjoyable experiences in your leisure and free time.
If and when we need to, activities or sessions may also take place in the community or another appropriate setting to help to bridge the gap between therapy and your day-to-day life. In these settings you can learn and practice specific skills and techniques to help you manage uncomfortable feelings and distorted thoughts, paying special attention to skills and tools that help you feel safer, more relaxed and more genuinely connected to yourself and others.
Whichever approach we use, my goal is to help you develop meaning and purpose in your life through intentional, playful and enjoyable leisure experiences that are an important part of a healthy balanced lifestyle.
Healthy leisure activity and play are a rich source of connection, meaning and belonging that can positively influence your quality of life.
Appointments & Referrals
I provide individual and group therapy on an out-patient basis on weeknight evenings.
Referrals from health care professionals are not required, but welcomed, as are self-referrals.
All sessions are fee for service. Counselling sessions are approximately 55 minutes and are $80.00/session, with a sliding scale for those who are unable to afford the full fee (excluding groups, workshops or speaking engagements; fees to be arranged)
If you would like to arrange an appointment or contact me to speak further about the services I offer, please call or email me, confidentially, at: 519-820-4646 or at jgriffin@execulink.com.
Please indicate whether it is okay for me to leave a message when I get back to you usually within 2-3 business days.
Presentations and Speaking engagements
I frequently speak to students at the University of Waterloo entering the field of Recreation Therapy about the use of experiential activity in therapy.
I have provided education seminars at conferences in Canada and the United States.
I have facilitated experiential self-reflective practise workshops for professional and personal development.
I am available to speak to groups regarding PTSD and the impact of trauma; re-enactments in leisure activity; and experiential self-reflective practise for personal and professional development.
To arrange for a presentation or speaking engagement please contact me at: 519-820-4646 or at jgriffin@execulink.com.
Professional Memberships and Credentials:
A member in good standing with the College of Registered Psychotherapists (CRPO)
Affiliate member of Ontario Association of Consultants, Counsellors, Psychometrists and Psychotherapists (OACCPP).
Registered member of Therapeutic Recreation Ontario (TRO)
Bachelor's Degree in Recreation Therapy, University of Waterloo
"Guard well your spare moments. They are like uncut diamonds. Discard them and their value will never be known. Improve them and they will become the brightest gems in a useful life."
― Ralph Waldo Emerson